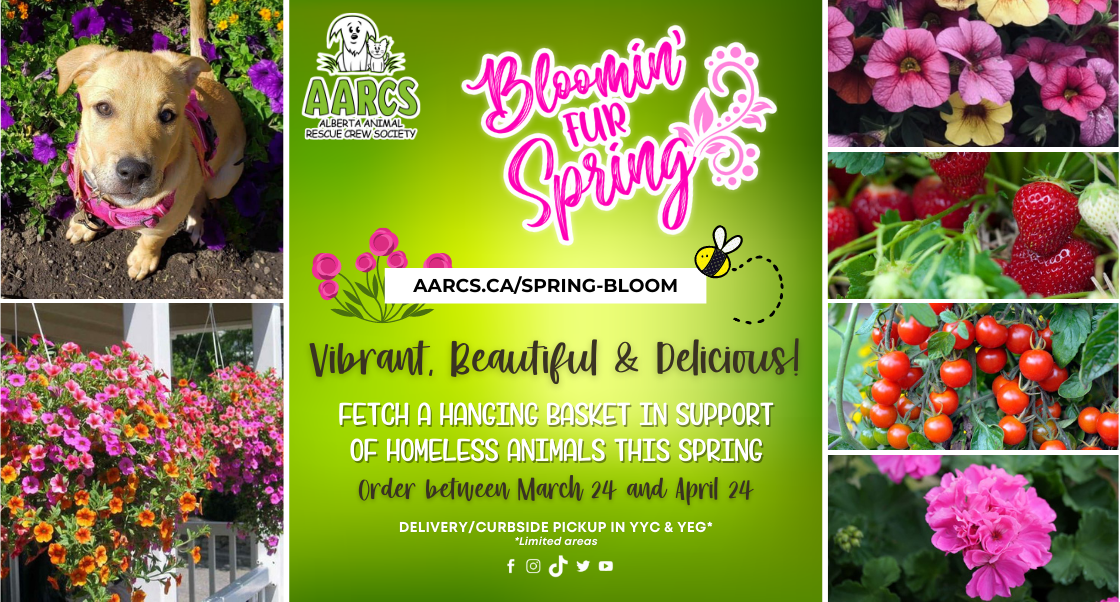 Our Bloomin' Fur Spring Fundraiser is now closed!
Thanks for your interest in AARCS' 2022 Bloomin' Fur Spring.
If you placed an order with us through this fundraiser, please check your email regularly for order updates from Nicole Janke (nicole.janke@aarcs.ca). Please visit us at aarcs.ca/get-involved for ways to get involved. You can also support AARCS by purchasing a Spring Lottery and 50/50 ticket.
You are welcome to contact us at info@aarcs.ca.
*VERY IMPORTANT NOTICE:
DELIVERIES WILL ONLY BE MADE ON MAY 3 AND MAY 4 BETWEEN THE HOURS OF 10 A.M. AND 4 P.M. AND IS ONLY AVAILABLE FOR THE FOLLOWING AREAS:
CITY OF CALGARY, AIRDRIE, CHESTERMERE AND OKOTOKS

CITY OF EDMONTON, ST. ALBERT, SHERWOOD PARK, SPRUCE GROVE, BEAUMONT, STONEY PLAIN
CURBSIDE PICK-UP IS AVAILABLE AT:
AARCS Safe Haven (5060 - 74 Avenue SE, Calgary, AB)
Friday, May 6 (3 p.m. - 7 p.m.) and Saturday, May 7 (10 a.m. - 3 p.m.)


AARCS North Haven (8108 Coronet Road NW, Edmonton, AB)
Friday, May 6 (3 pm. - 7 p.m.) and Saturday, May 7 (10 a.m. - 3 p.m.)

These dates are subject to change and will be confirmed via email by our Fundraising Coordinator a few days after the order deadline on April 24.