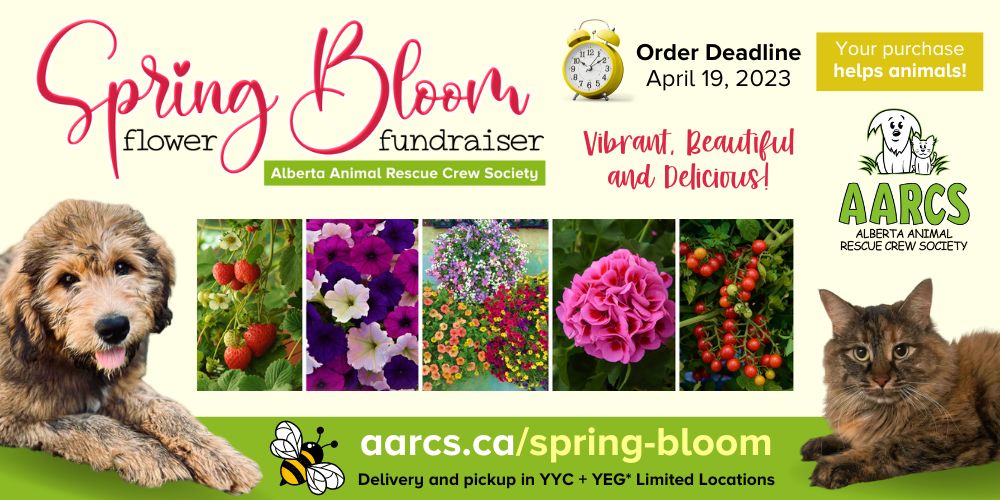 AARCS Spring Bloom - Flower Fundraiser
Fetch yourself a hanging basket in support of homeless animals this spring!
*Deadline for orders is 6 PM on April 19, 2023
---
AARCS is proud to present our 4th annual Spring Flower Fundraiser with a variety of vibrant, beautiful and delicious 10" baskets that are ready to hang! Funds raised will go towards the care of the animals! 🌸 Each gorgeous basket is only $32.50, add a bottle of organic fertilizer for just $15 to keep them healthy and bountiful! 🌿 One-time charge for delivery is $15 per address.
*VERY IMPORTANT NOTICE:
DELIVERIES WILL ONLY BE MADE ON MAY 10 BETWEEN THE HOURS OF 10 A.M. AND 5 P.M. AND IS ONLY AVAILABLE FOR THE FOLLOWING AREAS:
📍 CITY OF CALGARY, AIRDRIE, CHESTERMERE AND OKOTOKS
📍 CITY OF EDMONTON, ST. ALBERT, SHERWOOD PARK, SPRUCE GROVE, BEAUMONT, STONEY PLAIN
If you would like to ship orders to multiple locations you MUST submit an individual order form for EACH address.
PICK-UP IS AVAILABLE AT:
∙ AARCS SAFE HAVEN (5060 - 74 Avenue SE, Calgary, AB)
Friday, May 12 (3 p.m. - 7 p.m.) and Saturday, May 13 (9 a.m. - 3 p.m.)
∙ AARCS NORTH HAVEN (8108 Coronet Road NW, Edmonton, AB)
Friday, May 12 (3 pm. - 7 p.m.) and Saturday, May 13 (9 a.m. - 3 p.m.)
These dates are subject to change and will be confirmed via email by our Fundraising Coordinator within a week of the order deadline (April 19, 2023)
Purchase Item Information
in support of the animals of AARCS!
Although your pots will be gorgeous and vibrant in colour ~ photos are only examples and colours cannot be guaranteed.

Our 10" Premium Hanging Baskets will arrive ready to hang and give a bright vibrant splash of colour all spring and summer.

EASY-TO-USE Organic All-Purpose Fertilizer. A must have to maintain your beautiful baskets! *Available for purchase

Fertilize them with our Organic fertilizer once a week.

Our supplier starts growing the 10" premium hanging baskets in late January to allow for early May delivery.

The baskets have been trimmed several times to make them vibrant, full, fresh, and stronger.

When you get your baskets, keep them moist – not wet. Place in a somewhat protected sunny location.

Mother Nature will choose your colours. Many different combination plantings will be made (colours and combinations will vary).

A fresh, healthy, and fabulous way to naturally colour and beautify your yard!